Built in New Zealand for the Toughest of Tough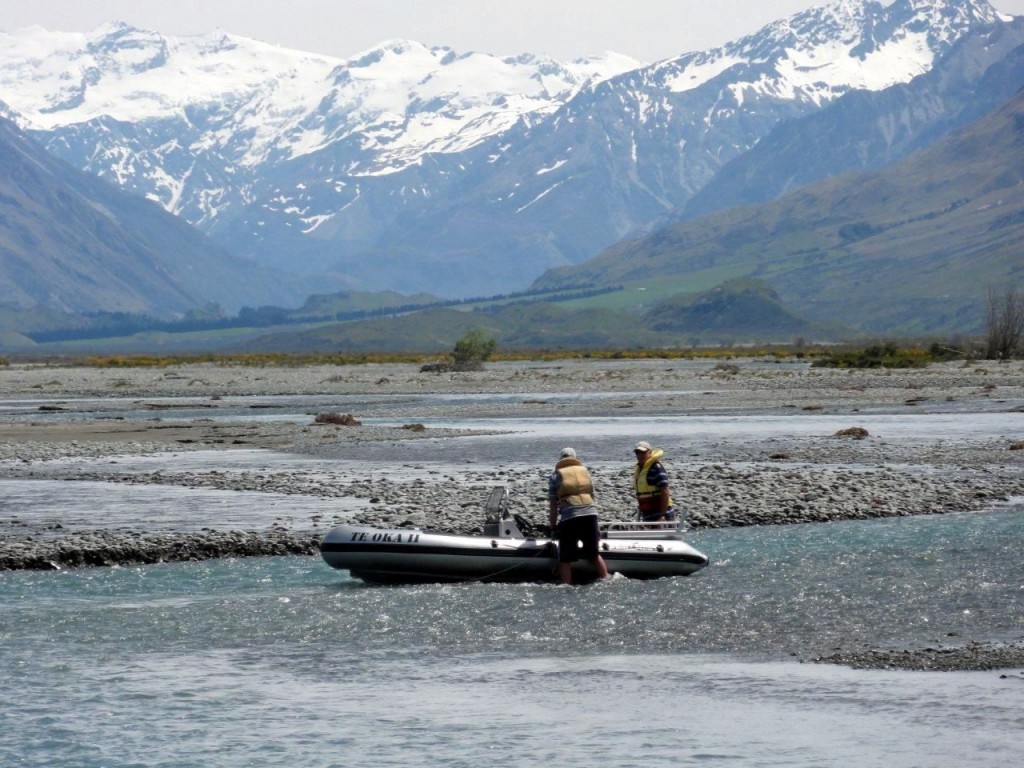 4.5M Wavebreak Jet - Centre Console Model (Exploring the Rangitata)
Wavebreak sets the standard for innovative, high-quality rigid inflatable jet boats. With safety as the primary driver, Wavebreaks incorporate features to ensure your adventures can be pursued without compromise.
From our strong yet lightweight alloy hulls to our renown dual-layer pontoon system, each and every Wavebreak is built to get you there and back.
Explore Places Others Wouldn't Dare
4.5M Wavebreak Jet - Sport
Wavebreak RHIBs let you do more things and explore more areas that you wouldn't dare approach in less durable boats.
Wavebreak hulls are constructed with the highest certified 5083 marine-grade alloy available to withstand conditions that are destructive to fibreglass and plastic hulls which can chip, graze and crack against rocks and other hard surfaces.
Strong yet lightweight hulls together with puncture resistant pontoons enable Wavebreaks to remain afloat and operational even when swamped.
Innovative Excellence - Superior Design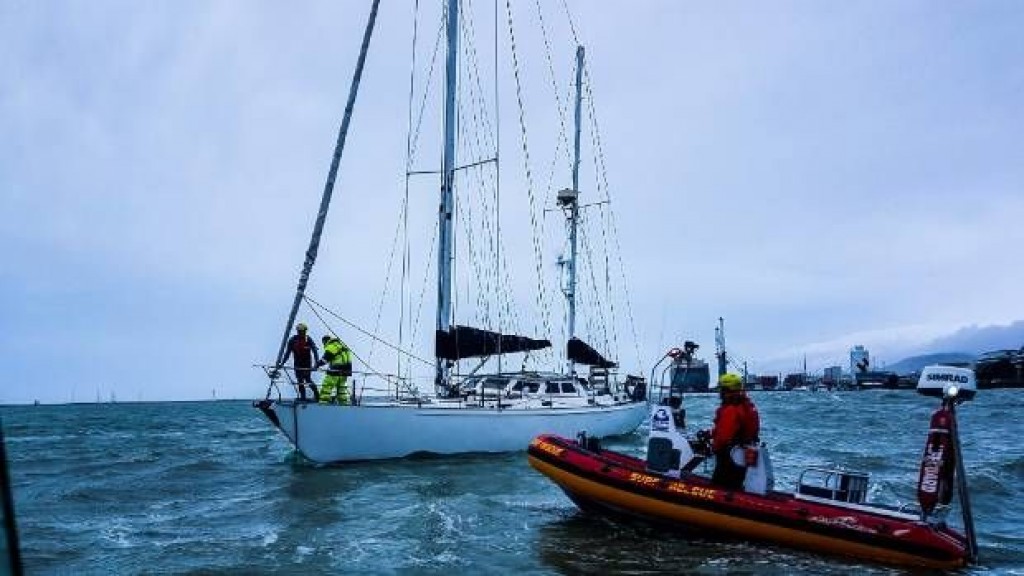 4.9M Wavebreak Jet - Rescue
Choice of Hull and Motor Packages
We pride ourselves on addressing customer needs, offering choice of hull and motor packages to ensure you have the best and safest ride possible for your primary boating conditions. We work with you to ensure your Wavebreak is set-up for your specific activities.
Operational Even When Swamped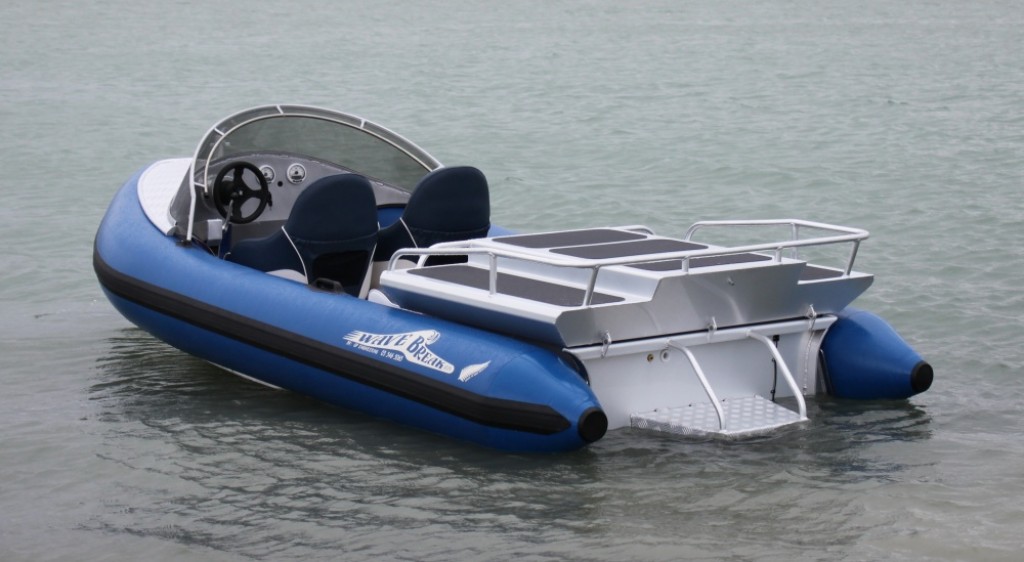 4.5M Wavebreak Jet - Sport
Wavebreak Jets feature watertight engine compartments and a high amount of built-in flotation. These features enable our boats to take on a large amount of water and still remain operational.
Experience the Extraordinary
4.7M Wavebreak Jet - Tapered Sport
Pontoons on Rivers?! No Problem!
3.8M Wavebreak Jet - Sport Model
Our RIBs feature heavy-duty inflatable butynol bladders encased and protected by superior polymer-coated outer bags. It takes practically an act of vandalism to puncture through the Wavebreak's protective outer bags and into its inner inflated bladders!
Our removable "dual-layer" pontoon system is just one of many important safety features of the Wavebreak's design.
Stability = Safety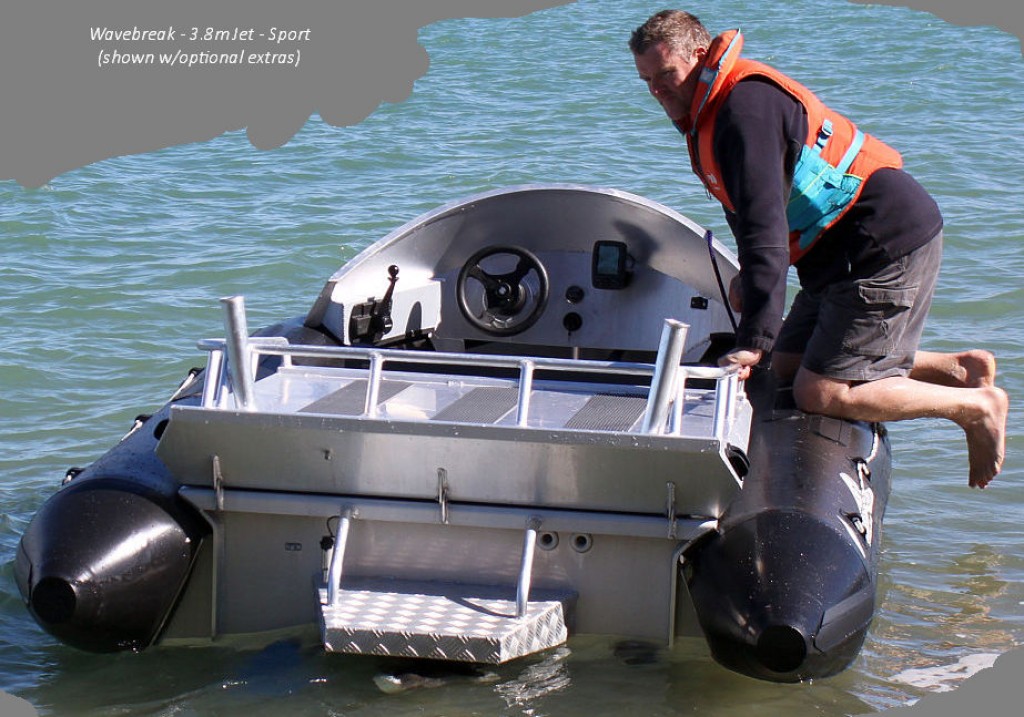 Grant boarding a 3.8M Wavebreak Jet
The Wavebreak has excellent freeboard and a higher-weight carrying capacity than similarly sized craft. Unlike conventional boats the more weight being carried the more stable the craft becomes.
Precise Performance
Our comfortable, well-balanced Wavebreaks are known for their awesome performance. Wavebreak Jets precisely track and turn hard without slippage, enabling quick maneuvers in tight demanding situations.
Marinized Motors to Suit Your Jet Boat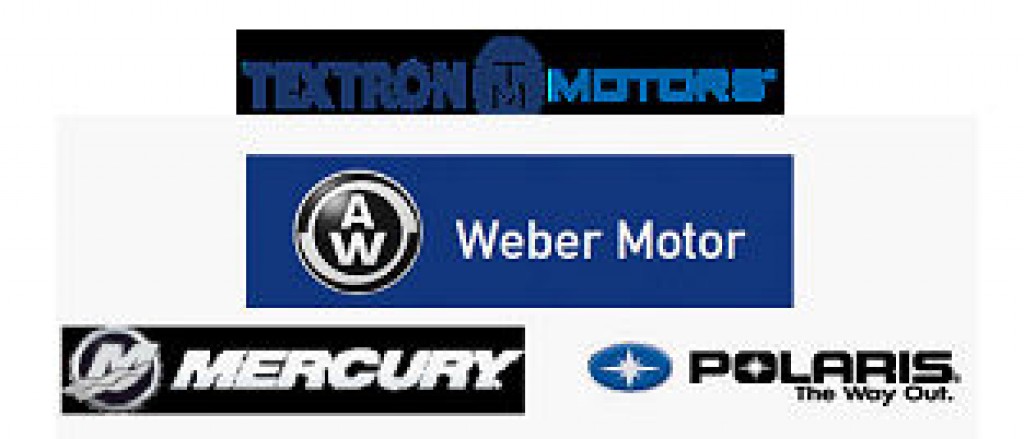 Brand Options for Wavebreak Jets
Mercury - Textron - Weber - Polaris
Unsure of which motor would suit your Wavebreak? Give us a call or email and we will assist you in selecting the most appropriate motor to best meet your needs.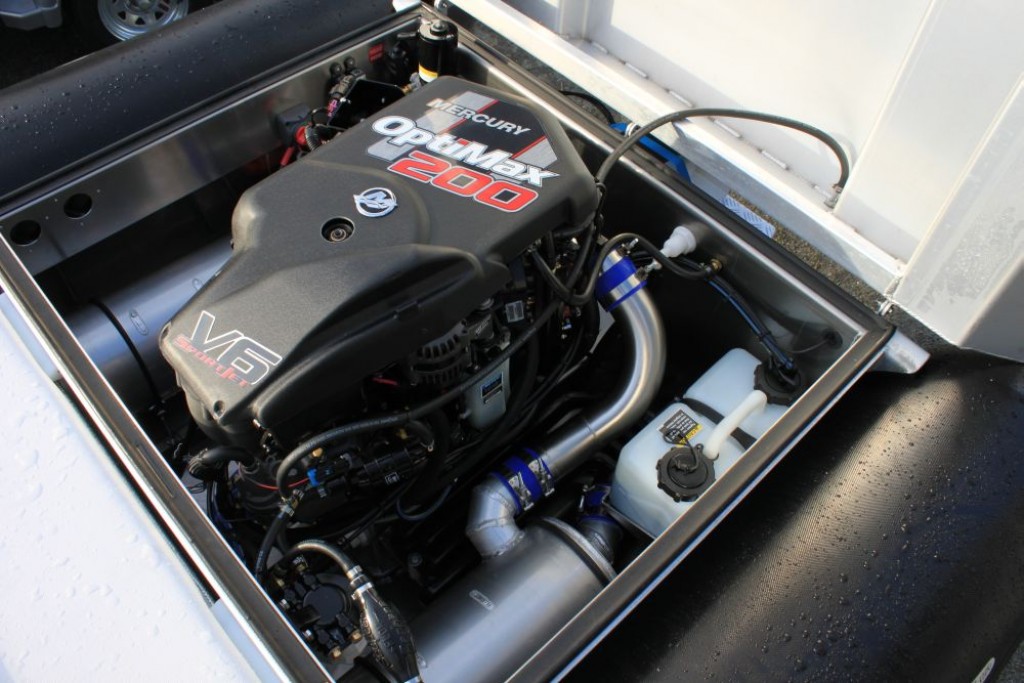 Mercury 200hp Sportjet OptiMax
GP Engineering is an authorized OEM installer of Mercury Marine motors.
The Mercury SportJet features a 200hp V6 Direct Fuel Injection (DFI) OptiMax engine for instant turnkey starting, no-smoke operation, outstanding fuel economy and excellent power. The Mercury SportJet has a self-draining cooling system for ease of maintenance.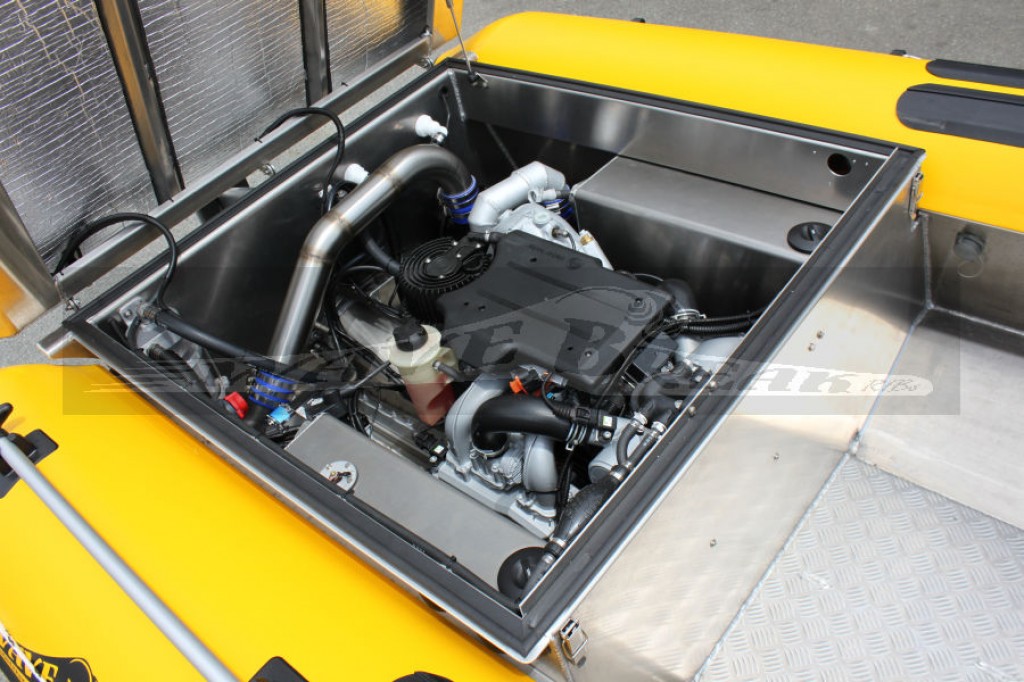 Wavebreak w/Textron
Textron Marine
GP Engineering is New Zealand's premier authorized Textron Weber Motors Service Dealer. We stock parts and accessories needed to install and maintain these four-strokes including spark plugs, oil filters, fuel filters and more.
Textron's lightweight yet powerful 155hp marine motors provide exceptional performance and durability and suit our 3.8M - 4.9M Wavebreak Jet Boats extremely well.
Wavebreak w/ Polaris MSX 140
Polaris Watercraft
As a Polaris Master Service Dealer since 2001 we are experts at diagnosing, servicing and repairing Polaris motors and watercraft.
Compact, lightweight and proven to be exceptional motors, the Polaris MSX140 engine provides great power-to-weight in our smaller Wavebreak Jets.
Complete Jet Pump Assemblies for Self-Builds
Complete Jet Pump Assembly
Perfect for coupling with lighweight motors
Looking for an inexpensive yet durable waterjet propulsion system for your jetboat? You've come to the right place!
When we started to design and build Wavebreak Jet RHIBs we found there were no jet intake and pump housing assemblies commercially available for small jet boats. We had no choice but to design and manufacture our own.
Easy to install, our proven jet propulsion assembly provides excellent acceleration, gives no cavitation and is now available for your own jetboat building requirements. It is designed to run between 5000 RPM and 10,000 RPM and is able to handle 60hp to 200hp - perfect for coupling with jetski motors, lightweight marinized motors, or even small car motors.
Lightweight yet tough and reliable
Designed for heavy-duty action
Easily tune-able to suit most applications
Strongly built from 5083 alloy and 316 stainless steel
Features a full stainless steel stator and wear-ring (not plastic or lightweight alloy)
Heavy-duty stainless steel intake grate
Only small objects can enter pump
Resists damage from stones and debris
Removable, bolt-on intake does not require welding
Easily removed for repairs and maintenance
Provides excellent acceleration
Cavitation-free